Game Preview: Fiorentina vs. Napoli - Serie A - October 30th, 2013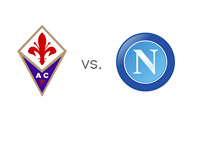 Fifth place Fiorentina meet second place Napoli in the tenth round of the Italian Serie A on Wednesday, October 30th, 2013 at Artemio Franchi stadium in Florence.
The kick-off is at 8:45pm.
After beating Juventus 4-2 in a thrilling encounter on October 20th, Fiorentina have since booked two more wins vs. Pandurii (3-0) in the UEFA Europa League and against Chievo Verona (1-2) in Serie A. Giuseppe Rossi is the leading scorer for the team from Florence with 8 domestic goals.
Napoli most recently beat Torino 2-0 with both goals coming from penalty kicks taken by Gonzalo Higuain, who has netted 5 goals so far domestically. A few days earlier, Napoli beat Marseille 1-2 in the UEFA Champions League where they have two wins out of three matches.
The odds for the upcoming match are:
Fiorentina: 6/4
Draw: 23/10
Napoli: 9/5
It is going to be a close match according to the bookmakers. A 100 € bet on Fiorentina could yield 150 € in profit, while the same bet on Napoli could yield 180 € in profit.
The most likely score, according to the odds, is a 1-1 draw, offered at 5/1.
Gonzalo Higuain is the favourite to score on Wednesday at 11/8 and Giuseppe Rossi is the favourite to score for the hosts at 6/4.
Hopefully Mario Gomez, who is out with a knee injury, returns to action for Fiorentina soon.
Should be a good game.