Game Preview: Fenerbahce vs. Arsenal - UEFA Champions League Qualifiers - August 21st, 2013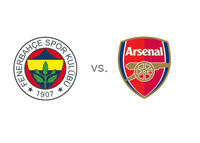 Fenerbahce face Arsenal in the first leg of the UEFA Champions League (UCL) play-off round in Istanbul on Wednesday, August 21st, 2013.
Fenerbahce are in good form at the moment. They finished second in the Turkish league last season and they made it all the way to the semi-finals of the UEFA Europa League. They most recently eliminated FC Salzburg 4-2 on aggregate in the UCL third qualifying round. Fenerbahce are looking to qualify to the UEFA Champions League group stage for the first time since 2008/09.
Arsenal are aiming to qualify for the UEFA Champions League group stage for the 16th time in a row. The club is in a tough spot at the moment. They lost their first English Premier League match at home to Aston Villa 1-3 and they are having a difficult time signing new players in the summer transfer market so far.
Let's take a look at the odds for the upcoming match in Istanbul:
Fenerbahce: 5/2
Draw: 12/5
Arsenal: 5/4
Arsenal are the favourites to win the upcoming match in Turkey. A $100 bet on the guests could return $125 in profit, while the same bet on the hosts could return $187 in profit.
Theo Walcott is the favourite to score for Arsenal at 5/4 and Moussa Sow and Emmanuel Emenike are the favourites to score for Fenerbahce at 15/8.
The two teams last met in the 2008/09 Champions League. The score in Istanbul was 2-5 for Arsenal, while in London the score was 0-0.
A few weeks ago, there was a somewhat related game during the 2013 Emirates Cup in London. Turkish Galatasaray beat Arsenal on their home turf with the score of 1-2.
Can Fenerbahce rise up and challenge the Gunners on Wednesday, or will Arsene Wenger's side collect themselves and perform?
This should be an awesome battle!
Please note that Fenerbahce might be out of this year's UEFA Champions League group stage even if they manage to beat Arsenal over the two rounds. Fenerbahce are waiting on the Court of Arbitration for Sports (CAS) ruling in regards to a UEFA suspension for its part in the Turkish match-fixing and corruption scandal.