Manchester City Battle Wigan in the FA Cup Finals on May 11th, 2013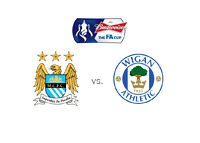 Manchester City meet Wigan on Saturday, May 11th, 2013 in the finals of the FA Cup at Wembley Stadium.
Manchester City and Wigan already met twice in the league so far this season and on both occasions Manchester City came out as winners. The score in Wigan was 0-2 and in Manchester 1-0.
It comes as no surprise to see Manchester City as big favourites going into the final match.
Full Time Result
Man City 1/3
Draw 17/4
Wigan 8/1
To Lift the Trophy
Man City 1/6
Wigan 9/2
A $100 bet on Manchester City to win the FA Cup could bring $16 in profit if successful, while the same bet on Wigan could bring $450 in profit.
Manchester City are in good form at the moment and they have seven points from their last three English Premier League games. Most recently Man City beat West Brom 1-0 at home, after drawing with Swansea 0-0 away and beating West Ham 2-1 at home.
Wigan on the other hand lost their last match vs. Swansea at home 2-3 after beating West Brom away 2-3 and drawing with Tottenham 2-2 at home.
Manchester City eliminated Chelsea in the semi-finals of the FA Cup with the score of 1-2 and before that claimed victories vs. Barnsley, Leeds United, Stoke City and Wattford.
On the way to the finals Wigan Athletic eliminated Millwall in the semis and Everton, Huddersfield Town, Macclesfield Town and AFC Bournemouth earlier in the competition.
This should be an interesting match as anything can happen in a one game final. Will Manchester City come out strong and win their only trophy for the season or will Wigan surprise and recompensate for being, most likely, relegated out of the English Premier League at the end of the season.