Round 24 of the Barclay's Premier League - Everton vs. West Brom - Game Odds
Everton are hosts to West Brom on Wednesday January 30th at Goodison Park in the 24th round of Barclay's Premier League.
Last season, in March of 2012 when Everton hosted West Brom the score was 2-0. Earlier in the 2012/13 season the two teams met at the Hawthorns on September 1st and West Brom won that match 2-0. The scorers were Gareth McAuley and Shane Long.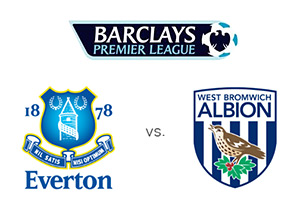 Everton are favourites to win the upcoming match at home.
Everton: 4/7
Draw: 3/1
West Brom: 5/1
This means that a $175 bet on Everton would yield a profit of $100 while a $100 bet on West Brom would yield $500.
Is there value betting on the guests in this upcoming game?
As an away team this year in the Premier League West Brom won three games, against Wigan, Sunderland and QPR.
Out of 11 games at home Everton won 5, tied 5 and lost 1. The only loss came to Chelsea.
In the Premier League tables Everton are in 5th place after 23 matches with 38 points while West Brom are in 8th place with 34 points.
Everton most recently beat Bolton 1-2 in the FA Cup round 4 on January 26th, after two 0-0 draws with Southampton and Swansea City at home in the Premier League.
West Brom tied Aston Villa 2-2 last in the Premier League on the 19th of Jan after being eliminated in the FA Cup by Queens Park Rangers 2:1 on aggregate and losing to Reading 3-2 in the League.
This game is a good chance for Everton to solidify it's position in the top five league spots that guarantee Europe next season.