Game Preview: Everton vs. Tottenham - English Premier League - 03/11/2013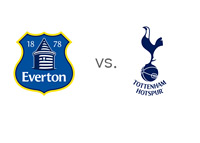 Sixth place Everton will host fourth place Tottenham in the tenth round of the English Premier League on Sunday, November 3rd at Goodison Park. The kick off is at 1:30pm.
Some would say that this is the match of the week in the EPL and not Arsenal vs. Liverpool. Both Everton and Tottenham are in form and winning games. Now considering how congested things look to get at the top of the Premier League tables, every point matters. This is a big game!
After losing to Manchester City away, Everton has made a comeback with wins over Hull (2-1) and Aston Villa (0-2). Romelu Lukaku is playing well and he has scored 5 goals so far this season.
The Spurs have won their last three games vs. Aston Villa (0-2), Sheriff (0-2) in the UEFA Europa League and most recently Hull (1-0). Roberto Soldado is the top goalscorer for Tottenham with four goals, three of which have come from the penalty spot.
Everton are unbeaten at home and Spurs have won three out of their four away games.
Let's take a look at the odds for the upcoming match:
Everton: 11/8
Draw: 12/5
Tottenham: 2/1
Everton are the favourites. A 100 € bet on the home side could return 137 € in profit, while the same bet on the Spurs could return 200 € in profit.
The most likely score on Sunday, according to the odds, is a 1-1 draw.
Jermain Defoe is the favourite to score for Tottenham at 7/5. Romelu Lukaku is the favourite to score for Everton at 13/8.
Andros Townsend is under a question mark for Sunday due to a hand injury.
Looking forward to this match!