Everton vs. Manchester City Betting Odds - English Premier League - March 16th, 2013
On Saturday, March 16, 2013 at 2:45 PM local time Everton are hosts to Manchester City in the 29th round of the English Premier League at Goodison Park in Liverpool.
Everton are in seventh place at the moment battling for a ticket to the UEFA Europa League next season while Manchester City are in second place trailing Manchester United by twelve points and ahead of Tottenham by five. Manchester City hosted Everton earlier in the season on December 1st, 2012 and the score in that game was 1-1.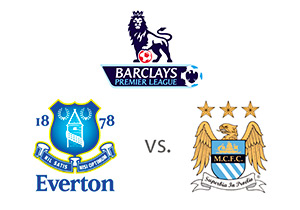 Manchester City are the favourites in the upcoming match.
Everton 29/10
Draw 13/5
Man City 21/20
This means that a $100 wager on Everton could bring in $290 in profit while the same bet on Manchester City could bring in $105 in profit.
The odds of Carlos Tevez scoring a goal are 6/5, Edin Dzeko 6/4, Marouane Fellaini 21/10 and Nikica Jelavic 21/10. A $100 bet on Carlos Tevez scoring could bring in $120 in profit.
Everton last beat Reading at home with the score of 3-1 while Manchester City beat Aston Villa 0-1.
Everton vs. Manchester City is the match of the week in the English Premier League and it will be broadcast by Sky Sports.