The Emirates Cup 2013 - Tournament Schedule and Format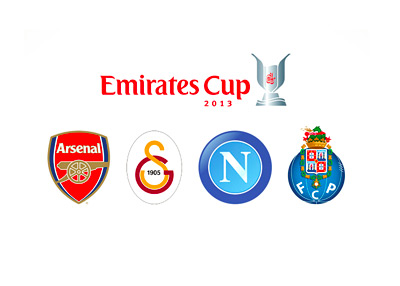 Arsenal Football Club will be the host of the 6th annual Emirates Cup competition on August 3rd and August 4th at the Emirates Stadium in London.
Emirates Cup is a pre-season friendly tournament and this year it features the Portuguese champions Porto, Italian Serie A Napoli, Turkish champions Galatasaray and Arsenal FC.
Tournament schedule:
Saturday, August 3rd
Galatasaray vs. FC Porto (2pm)
Arsenal vs. Napoli (4.20pm)
Sunday 4th August
Napoli vs. FC Porto (2pm)
Arsenal vs. Galatasaray (4.20pm)
The Emirates Cup rules are different from other football tournament rules. For a win the teams are awarded 3 points, for a draw the teams are awarded 1 point and for each goal scored a point is awarded on top. If two teams have an equal amount of points at the end of the tournament, shots on goal are considered.
Last year's Emirates Cup was postponed because of the London Olympics. The previous tournament winners were:
2007 Arsenal
2008 Hamburg
2009 Arsenal
2010 Arsenal
2011 New York Red Bulls
This should be an exciting event. A tournament where goals are counted as points will for sure encourage attacking football.
Looking forward to the Emirates Cup 2013!