Findings from the 2015 Deloitte Football Money League Report - World's Wealthiest Football Clubs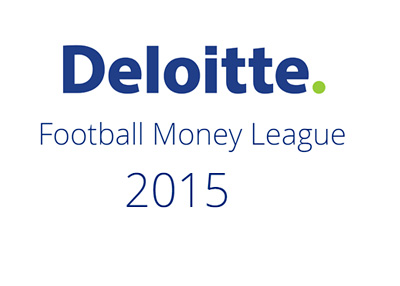 After factoring in numerous metrics, both official and non-official, The Deloitte Football Money League has released its report on the top 20 clubs for the season 2013-14. Factors like stadia attendance, global fan base, television audience and on-field performance have been taken into account. The report highlights the substantial growth in wealth of these clubs. It notes the rising threshold for entrants into the Money League; this time to 144 million Euros, a handsome 20% spike over the last year. The report shows Real Madrid and Manchester United as the only two clubs to breach the €500m mark revenue-wise. But such is the pace of growth among the top clubs that it claims the first five in the Money League next year could also comfortably cross the €500m figure. Deloitte also expects the dominance of clubs from the "Big Five" leagues of Europe to continue.
The recent Barclays Premier Leagues broadcast deals seemed to have benefited English clubs in a big way, which is why 2013-14 sees new entrants like Newcastle and Everton in the 19th and 20th positions respectively. This takes the tally of English clubs in Deloitte's top 20 wealthiest for 2013-14 to an astonishing 8! In fact, this was a record revenue-earning year for all English clubs.
Real Madrid has retained its position as the world's richest club for the 10th consecutive year running. This interestingly coincides with their achievement of La Decima [winning the UEFA Champions League for the 10th time]. Despite a dismal 2014 Premier League Season under David Moyes where they were placed at a lowly seventh and missing out on the Champions League qualification, Manchester United haven't lost their commercial allure and have in fact gained, edging out Barcelona from the second spot, thus pushing the Catalans to the fourth position this time. The positions of Bayern Munich, Paris Saint-German, Manchester City, Chelsea and Arsenal have remained unchanged from 2012-13 to 2013-14 and all are still among the top ten earners . Liverpool have found a place in the top ten reflecting a successful 2013-14 season on-field. They have moved three places up to 9th this time from 12th in 2012-13. Serie A champions Juventus still find themselves in the top ten wealthiest but have slipped a notch from 9th to 10th for season 2013-14. AC Milan are out of the top ten, down to 12th this year. Atletico de Madrid's financial fortunes seems to have taken a cue from their on- field performances; up to 15th this time, 5 places up from 2012-13. Tottenham Hotspur are a place up to 13th from 14th. Inter Milan are down to 17th from 15th. Turkish club Galatasaray are down to 18th from 16th last year. A 50% jump in its revenues in the 2013-14 season sees Napoli catapult to the 16th from just nowhere in 2012-13. AS Roma and Fenerbahce are out of the top 20. So is Hamburger SV.
Revenues for the top 20 in 2013-14 and position and revenues (2012-13) in million Euros (€m)
1. Real Madrid - 549.5 1. (518.9)
2. Manchester United - 518.0 4. (423.8)
3. Bayern Munich - 487.5 3. (431.2)
4. FC Barcelona - 484.6 2. (482.6)
5. Paris Saint-German - 474.2 5. (398.8)
6. Manchester City - 414.4 6. (316.2)
7. Chelsea - 387.9 7. (303.4)
8. Arsenal - 359.3 8. (284.3)
9. Liverpool - 305.9 12. (240.6.3)
10. Juventas - 279.4 9. (272.4)
11. Borussia Dortmund - 261.5 11. (256.2)
12. AC Milan - 249.7 10. (263.5)
13. Tottenham Hotspur - 215.8 14. (172.0)
14. Schalke 04 - 213.9 13. (198.2)
15. Atletico de Madrid - 169.9 20. (120.0)
16. Napoli - 164.8
17. Internazionale - 164.0 15. (164.5)
18. Galatasaray - 161.9 16. (157.0)
19. Newcastle United - 155.1
20. Everton - 144.1
--
Source:
Deloitte Football Money League 2015