The Richest Football Clubs - Deloitte Football Money League 2013 - Report
Deloitte, one of the biggest accounting firms in the world, publishes an annual report profiling the highest earning clubs in football. The report is called 'Deloitte Football Money League'. Here we will go over the 2013 report that covers the 2011/12 season. You can find the link to the actual report in PDF format at the bottom of this article.
Here are some highlights:
The top 20 clubs generated over €4.8 billion in 2011/12, a 10% increase on the previous year.


The top 20 clubs contributed over a quarter of the total revenues of the European football market.


The top 20 clubs are estimated to generate over €5 billion in the 2012/13 season.


Real Madrid are the top Money League ranked team for the 8th season in a row following the eight season reign by Manchester United from 1996/97 to 2003/04.


All of the top 20 clubs are based in European 'big five' markets - England, (7), Italy (5), Germany (4), Spain (2) and France (2).


Real Madrid generated €513m in 2011/12, an increase of €33m or 7% compared to the previous year. This is the first time a club earned more than €500 in a single year.


Manchester City and Borussia Dortmund climbed 5 places compared to last year.
Here is the list of the top 20 clubs and their earnings in the 2011/12 season:
1.
Real Madrid
- €512.6m
2.
FC Barcelona
- €483m
3.
Manchester United
- €395.9m
4.
Bayern Munich
- €368.4m
5.
Chelsea
- €322.6m
6. Arsenal - €290.3m
7. Manchester City - €285.6m
8. AC Milan - €256.9m
9. Liverpool - €233.2m
10. Juventus - €195.4m
11.
Borussia Dortmund
€189.1m
12. Internazionale - €185.9m
13. Tottenham Hotspur - €178.2m
14. Schalke 04 - €174.5m
15. Napoli - €148.4m
16. Olympique de Marseille - €135.7m
17. Olympique Lyonnais - €131.9m
18. Hamburger SV - €121.1m
19. AS Roma - €115.9m
20. Newcastle United - €115.3
The club totals are calculated combining matchday, broadcast and commercial revenues.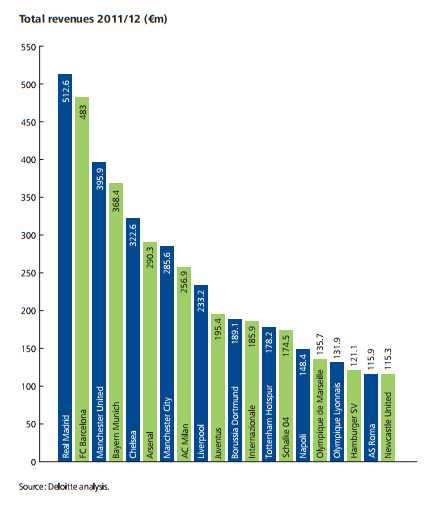 You can download the full report in PDF format from the Deloitte website
here
.