Pablo Daniel Osvaldo Set to Leave Inter Milan for Boca Juniors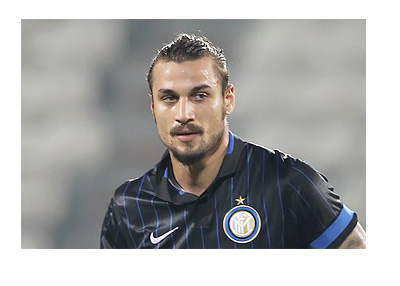 The 29-old Argentine-born Italian striker, Pablo Daniel Osvaldo, has a habit of courting controversies on and off the field. His frequent moves from club to club during the past few seasons are a direct result of that. His most recent incident, which alienated him from Inter Milan, was the harsh over-reaction at teammate Mauro Icardi for failing to pass him the ball in a match against Juventus. Actually owned by Southampton, Osvaldo was transferred on two successive loan-deals in 2014 to Juventus and Inter Milan. On the heels of his on-loan deal with Inter it is now learnt that Osvaldo is on the verge of joining Argentine club, Boca Juniors.
Signed in August 2013 by Southampton for €15 million plus bonuses from Italian club AS Roma, Osvaldo made his EPL debut in a match featuring Sunderland and got his first goal in a 2-0 win against Crystal Palace. In January 2014 he got into a training ground imbroglio that landed him a £40,000 fine and a two week suspension. Later that month he was off to Italy on a loan-deal to Juventus. In his 13 match tenure with Southampton the striker got just three goals. For his 11 appearances for Juventus, his only goal came in a match against his old team AS Roma. The beginning of the 2014-2015 season saw him make another on-loan move, this time to Inter Milan in place of Saphir Taider who moved to Southampton. His first goal for Inter came in a 6-0 win against Icelandic club Stjarnan in a Europa League qualifier. His winner in a 2-1 against Dnipro Dnipropetrovsk in November 2014 helped his club top the Group in the Europa League. But a failure to turn up at a 2-day training session without any valid reason landed him again with a suspension and his problems were compounded by a fall out with his teammates over the Mauro Icardi fracas. His outing with the Milan club was comparatively better with 5 goals from 12 appearances.
With Southampton showing no inclination to take the Italian striker back, Boca Juniors' interest seemed to be the only way out for him from a messy Italian season. Osvaldo too has expressed a desire to move over to Argentina. In fact, Boca director Marcelo London has announced that the deal will be done by Tuesday February 10 and that he is already officially a player of the Argentine club.
Pablo Daniel Osvaldo who made his debut for Argentine club Atletico Huracan in 2005 moved to Italy in 2006 where in the years to follow he played for Lecce, Fiorentina, Bologna and Roma before moving to Southampton. Osvaldo also donned the Italian national colors, having featured in as many as 14 games for the nation and scoring on 4 occasions.
Hopefully Osvaldo can get his act together in Buenos Aires.