Crystal Palace Eagles vs. Tottenham Hotspur - Round 1 of the English Premier League - 18.08.2013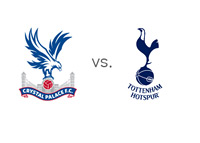 Crystal Palace Eagles, the newly promoted side in the English Premier League (EPL), are hosts to Tottenham Hotspur on Sunday, August 18th, 2013 at Sellhurst Park.
Crystal Palace earned their spot in the EPL in the play-off final last season. This is the fifth time Crystal Palace have climbed up to the Premier League and so far, they have been relegated back to the Championship the same year, each time.
Tottenham have strengthened their squad this summer. Sure, Gareth Bale is a big question mark for the upcoming season and Client Dempsey left for Seattle Sounders, but the Spurs have brought ex Valencia striker Roberto Soldado on board, winger Nacer Hadil from Twente, Paulinho from Corinthians and Etienne Capoue from Toulouse. Tottenham Hotspur, managed by Andre Villas-Boas, are aiming high in the 2013/14 season.
One interesting fact leading up to this match is that the Eagles have lost only one of their last six Premier League games against Tottenham. The two teams last played in 2005, and Crystal Palace won that match with a score of 3-0.
Let's take a look at the odds for the upcoming game at Selhurst Park:
Crystal Palace: 18/5
Draw: 11/4
Tottenham: 5/6
The guests are the big favourites to win on Sunday. A $100 bet on Tottenham could yield $83 in profit, while the same bet on the hosts could return $360 in profit.
Roberto Soldado (10/11) is the favourite to score for Tottenham this weekend, while Dwight Gayle (11/4) is the favourite to score for the Eagles.
This should be a good match!
The game will be broadcast live on Sky Sports 1.
The kick-off is at 1:30 pm local time.