Croatia vs. Serbia - FIFA World Cup Qualifiers - March 22, 2013 - Odds and Preview
In the 5th round of the 2014 FIFA World Cup Brazil qualifiers Croatia are hosts to Serbia on Friday, 22 March 2013 in Zagreb. Game time is 18:00 local time.
Croatia 4/6
Draw 5/2
Serbia 9/2
This means that a $100 bet on Croatia could bring in $67 in profit while the same bet on Serbia could bring in $450 in profit.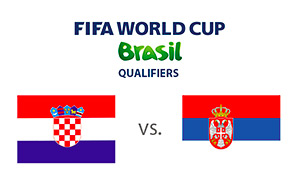 Croatia are ranked #9 in the FIFA rankings and they are in 2nd place in Group A with 10 points after 4 matches behind Belgium, who also have 10 points, and ahead of Serbia, Macedonia, Wales and Scotland. Croatia so far won twice against Macedonia, beat Wales once and tied Belgium.
Serbia are ranked #35 in the FIFA world rankings and they are in 3rd spot in the group with 4 points after 4 matches. Serbia so far lost to Macedonia, beat Wales and tied Scotland.
Croatia are favourites in the upcoming match.
Should be interesting to note that the Serbian Ministry of Foreign Affairs is prohibiting their citizens from attending the match in Zagreb. So on Friday it will be all Croatian fans in the stands.
Serbia will host Croatia on September 6th, 2013.