Game Preview: Croatia vs. Belgium - FIFA World Cup Qualifiers - October 11th, 2013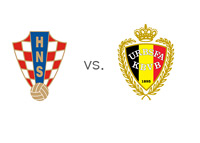 Croatia are hosts to Belgium in the ninth round of matches in Group A of the FIFA World Cup qualifiers on October 11th, 2013 at Stadion Maksimir in Zagreb.
Group A final standings are more or less known. Belgium need one point out of their next two matches to win the group and directly qualify to the World Cup in Brazil. Croatia will most likely finish in second place with hopes of earning qualification in the playoff round, following the group stage.
Despite the fact that this game means a little bit less than some other games played on the same day across Europe, Croatia vs. Belgium is an awesome matchup.
According to the September 2013 FIFA world rankings, Belgium are in sixth place and Croatia are in 10th place. Belgium are in excellent form, undefeated so far in the qualifications with seven wins and one draw (vs. Croatia in Brussels). Many are picking Belgium to be the surprise team of the Brazil World Cup.
Croatia started the qualifications well, and then they stumbled at home vs. Scotland in the seventh round losing 0-1. Most recently, Croata drew 1-1 in a tough match vs. Serbia in Belgrade.
My guess is that the odds for the upcoming match in Zagreb are close. Let's take a look:
Croatia: 7/5
Draw: 11/5
Belgium: 2/1
Croatia are the slight favourites to win on Friday. A 100 € bet on the home side could return 140 € in profit, while the same bet on Belgium could return 200 € in profit.
Bayern Munich stiker, Mario Mandzukic, is the favourite to score for Croatia at 7/4 (bet 100 € for a chance to earn 175 €) and Cristian Benteke of Aston Villa is the favourite to score for Belgium at 9/4 (bet 100 € for a chance to profit 225 €).
The most likely scorelines, according to the odds, are a 1-0 victory for the hosts, and a 1-1 draw, both offered at 5/1.
Vincent Kompany is out for Belgium due to injury and Marouane Fellaini is under a question mark due to a problem with his wrist. Dario Srna will be out for Croatia for accumulated yellow cards and Josip Siminic will be out due to a suspension for a
brutal foul
against Serbia (which saved Croatia a draw).
While most other qualifying matches start around 9pm on Friday, Croatia vs. Belgium is on at 6pm.
Enjoy the match!