Chelsea Choose Thibaut Courtois, Tell Petr Cech He is Free to Leave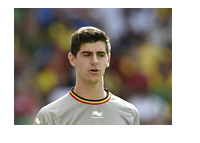 Jose Mourinho and Chelsea FC have chosen Thibaut Courtois as their undisputed number one keeper for the upcoming season and have reportedly told the club legend, Petr Cech, that he is free to find another club.
The Belgian international, Thibaut Courtois, who was on loan at Atletico Madrid for the past three years, made a name for himself during his stay in the Spanish capital, and is considered, at 21 years of age, to be one of the world's top goalkeepers. Last season alone he helped Atletico win the Spanish La Liga and progress all the way to the UEFA Champions League finals.
Petr Cech (32) was at Chelsea FC for the last ten seasons, during which he won countless trophies, including three English Premier League titles and the UEFA Champions League.
It will be interesting to see where Petr Cech ends up in the next few weeks.
It will also be interesting to find out if Thibaut Courtois has signed a contract extension with Chelsea FC, and if yes, at what price.