Bradford City vs. Swansea City - Capital One Cup Finals at Wembley Stadium - February 24th, 2013 - Game Odds
In an unlikely Capital One Cup final, Premier League club Swansea City will be facing the fourth division club Bradford City at Wembley Stadium in London on February 24th, 2013. In addition to the cup trophy, the winner earns a spot in the 3rd qualifying round of the UEFA Europa League next season.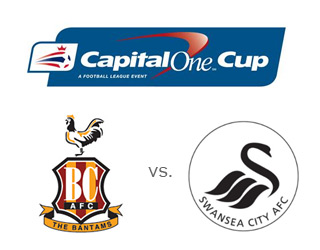 On their way to the finals Swansea City eliminated Barnsley, Crawley Town, Liverpool, Middlesbrough and Chelsea while Bradford City eliminated Notts County, Watford, Burton Albion, Wigan Athletic, Arsenal and Aston Villa.
Bradford 13/2
Draw 3/1
Swansea 2/5
Swansea are big favourites in the upcoming match. A $100 bet on Swansea would yield a $40 profit while the same bet on Bradford City would yield $650.
Can Bradford City perform another miracle on february 24th at Wembley stadium? After beating English Preamier League clubs Wigan and Arsenal via penalty shootouts and Aston Villa 4-3 on aggregate it is a possibility.
Swansea are also flying high at the moment after a big 2-0 aggregate win vs. 2011/12 UEFA Champions League winners Chelsea FC.
In the English Premier League Swansea City are in 9th place with 33 points after 23 matches while in the 4th division League 2, Bradford City are in 10th place with 40 points after 27 matches.
It really would be a miracle if Bradford City won the Capital One Cup and made it to UEFA Europa League next year. Last time, and the only other time a 4th division club reached the final of the League Cup was Rochdale AFC in 1962.
Capital One Cup is the England and Wales Football League Cup sponsored by Capital One financial corporation. This is the cup's 53rd season. Current champions are Liverpool who beat Cardiff City in the 2011/12 finals.