Game Preview: Borussia Dortmund vs. Bayern Munich - Bundesliga - 23/11/2013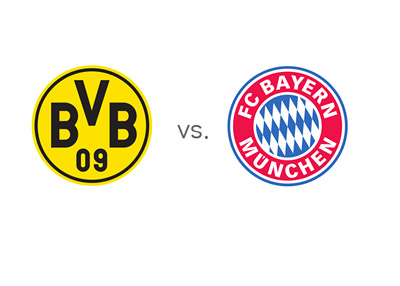 The biggest game in European football this weekend is the matchup between two Bundesliga giants, Borussia Dortmund and Bayern Munich. The match will take place on Saturday, November 23rd, 2013 at the Signal-Iduna-Park in Dortmund.
These two teams know each other very well. Borussia Dortmund are the only side that challenge Bayern these days it seems. They beat them in the German Super Cup with the score of 4-2 at the start of the season, not too long after losing in the UEFA Champions League final back in May. At the moment BVB are hurting. They lost that big match in the UCL vs. Arsenal recently, followed by a Bundesliga loss to Wolfsburg. The international break probably came at just the right time for Jurgen Klopp to get his ducks in order.
Bayern Munich are amazing this year. They were amazing last year, and this year, under Pep Guardiola they are even more so. Bayern have ten wins and two draws out of twelve matches in the German Bundesliga and are four points ahead of Dortmund. With a win on Saturday, Bayern could potentially generate a lead big enough to last until the end of the season.
Neven Subotic, Marcel Schmelzer and Mats Hummels are out for Dortmund due to injuries, while Holger Badstuber, Bastian Scweinsteiger, Xherdan Shaqiri, Claudio Pizarro and Frank Ribery are out for Bayern.
The odds for the upcoming match at Signal-Iduna-Park are:
Borussia: 11/4
Draw: 13/5
Bayern: 10/11
According to the bookies, Bayern Munich are the favourites to beat Borussia in the Bundesliga for the first time since February 2010. A 100 € bet on Pep Guardiola's side could return 90 € in profit, while the same bet on Jurgen Klopp's side could return 275 € in profit.
Considering that these two teams drew twice in the league last year, both time with the score of 1-1, it comes as no surprise that 1-1 is the most likely score for Saturday according to the odds. It is offered at 6/1.
Mario Mandzukic and Thomas Muller are the favourites to score for Bayern at 6/5 each, while Marco Reus and Robert Lewandowski, who is the Bundesliga leading scorer with 9 goals so far this season, are the favourite to score for Dortmund at 15/8 each.
This could be a really good game. The kick-off is at 6:30pm local time.