Europe's Biggest Club Games - Weekend of October 17th - 19th, 2013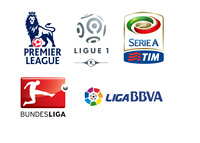 With the World Cup qualifiers behind us (for now), let's take a look at this weekend's big domestic league games taking place across the European continent.
Friday, October 18th, 2013
Roma vs. Napoli - Serie A
Nice vs. Marseille - Ligue 1
Zenit St Petersburg vs. CSKA Moscow - RPL
Saturday, October 19th, 2013
Real Madrid vs. Malaga - La Liga
Manchester United vs. Southampton - EPL
Borussia Dortmund vs. Hannover 96 - Bundesliga
Sunday, October 20th, 2013
Aston Villa vs. Tottenham - EPL
Fiorentina vs. Juventus - Serie A
It is a relatively quiet weekend in Europe. The highest profile match seems to be Roma vs. Napoli in Italian Serie A, which is to be played on Friday.
The UEFA Champions League is back on Tuesday, October 22nd, and Wednesday, October 23rd. There will be a lot of big clashes on those two days.
As always, we will preview the big matchups.
Enjoy the games!