Big Games Across Europe This Weekend - England, Spain and Russia Down to the Wire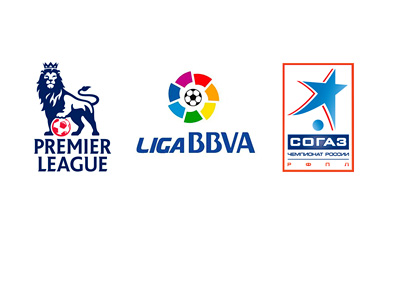 It is the end of the domestic league football season in Europe, and there are several big matches taking place this weekend.
The English Premier League, Spanish La Liga and the Russian Premier League are especially tight this year. Every point matters. The teams to look out for are Manchester City, Liverpool, Atletico Madrid, Zenit St. Petersburg and Lokomotiv Moscow.
It should be a great football weekend.
Here are the upcoming games;
English Premier League
Everton vs. Manchester City - Saturday, May 3rd, 2014
Crystal Palace vs. Liverpool - Monday, May 5th, 2014
In the EPL, it is between Manchester City and Liverpool. If they both win their remaining games, Manchester City will likely win the title on goal difference.
Spanish La Liga
Barcelona vs- Getafe - Saturday, May 3rd, 2014
Levante vs. Atletico Madrid - Sunday, May 4th, 2014
Real Madrid vs. Valencia - Sunday, May 4th, 2014
If Atletico Madrid manage to win two out of the remaining three games, the title is theirs. In the last round they visit Barcelona at Camp Nou.
Russian Premier League
Lokomotiv Moscow vs. Zenit-St. Petersburg - Sunday, May 4th, 2014
In Russia, with three games to go, we have the big derby between first place Zenit St. Petersburg and second place Lokomotiv Moscow. Only one point separates the two. Since Andre Villas-Boas took over at Zenit couple of months ago, they have won six games straight.
Enjoy the weekend everyone!
--
Update: the Coppa Italia final is also taking place this Saturday, featuring Fiorentina vs. Napoli.