List of This Weekend's Big Games - March 15th and 16th of 2014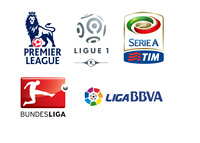 Let's take a quick look at some of the bigger games taking place across Europe this weekend.
Saturday:
Bayer Munich vs. Bayer Leverkusen - Bundesliga
CSKA Moscow vs. Zenit St Petersburg - RPL
Sunday:
Manchester United vs. Liverpool - EPL
Tottenham vs. Arsenal - EPL
PSG vs. St-Etienne - Ligue 1
Sporting Lisbon vs. Porto - PL
--
One of them slower weekends in Euro football. Manchester United vs. Liverpool could be a good one on Sunday.
Luckily, the Champions League and Europa League are back mid week.
Enjoy the games!