Atletico Madrid vs. Barcelona Highlights this Week in Euro Football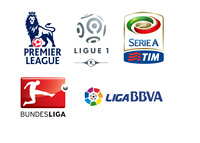 The festive season is over and European football is back in action. While the English Premier League was played through the holidays and the Italian Serie A has already begun, we now welcome the return of the Spanish La Liga, French Ligue 1 and the Portuguese Liga.
The biggest game of the week, most surely, is the Saturday's La Liga matchup between second place Atletico and first place Barcelona. The two teams are equal on points and in awesome form. This promises to be a great one.
Some of the other games that draw attention this week are:
Tuesday, January 7th, 2014
Valencia vs. Atletico Madrid - Copa del Rey
Saturday, January 11th, 2014
Atletico Madrid vs. Barcelona - La Liga
Manchester United vs. Swansea - EPL
Sunday, January 12th, 2014
Benfica vs. FC Porto - PL
Benfica and FC Porto are at the top of the Portuguese Liga tables, also equal on points. This is the game to watch on Sunday.
Swansea City eliminated Manchester United out of the FA Cup by winning for the first time ever at Old Trafford on Sunday with the score of 1-2. Now the two teams meet again in the English Premier League. Manchester United have lost four of their last six home games across all competitions, which in a way makes this a must win match for David Moyes and his men.
We will preview the above games in detail over the coming days!
Atletico vs. Barca? Oh Yess!