Top Football Matches This Weekend - October 4-6th, 2013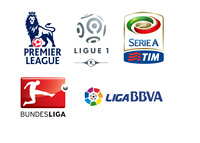 Let's take a look at some of the higher profile games that are to be played across Europe this weekend between Friday, October 4th and Sunday, October 6th, 2013.
It seems that most of the action is in the Italian Serie A:
Saturday, October 5th, 2013
Manchester City vs. Everton - EPL
Inter vs. AS Roma - Serie A
Sunday, October 6th, 2013
Juventus vs. AC Milan - Serie A
Lazio vs. Fiorentina - Serie A
Bayer Leverkusen vs. Bayern Munich - Bundesliga
Marseille vs. PSG - Ligue 1
Overall, the upcoming football weekend is an average one in terms of big games. Juventus vs. AC Milan match should be sweet. Can Everton, who are undefeated in the EPL so far, steal a point, or more, on their visit to Manchester? The game between Marseille and PSG in France is called 'Le Classique'.
Enjoy the matches!
Remember, next week, on October 11th and 15th, the last two rounds of the FIFA World Cup qualifiers are on. Should be some good action!