UEFA Champions League Semi-Finals - Bayern vs. Barcelona - First Leg - Betting Preview and Game Odds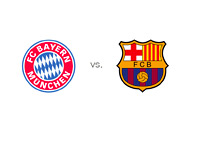 On Tuesday, April 23rd at the Allianz Arena in Munich, the newly-crowned Bundesliga champions Bayern will host the inevitable Spanish La Liga champions Barcelona in the first leg of the UEFA Champions League semi-final.
Bayern are on fire this season and this fire seems to be escalating as we get closer to the end of the season. In their last league game they crushed Hannover 1-6, followed after a win over Wolfsburg in the semi-final of the German Cup which they won with the same score of 6-1 in front of the home crowd. Mario Gomez scored five goals in the last two matches.
Barcelona are a game or two away from winning the Spanish title with six games left and most recently they beat Levante at home 1-0 with a late goal and a below-par performance by their second team while the star players rested for Tuesday. In the match before vs. R. Zaragoza last week, Barcelona won at home 3-0. Barcas leading scorer Lionel Messi is recovering from an injury and it is questionable if he will be in full form for Tuesday's big match.
The betting odds for the game in Munich have moved in favour of Bayern in the last week or so and currently they stand at:
Bayern 5/4
Draw 12/5
Barcelona 9/4
A $100 bet on Bayern brings $125 in profit is successful, while the same bet on Barcelona could potentially bring in $225.
Over 2.5 (total goals scored in the match) is set at 4/5 which brings $80 in profit on a $100 bet while Under 2.5 is set at 1/1 which returns $100 profit on a $100 bet.
Barcelona are the favourites to qualify to the finals at 8/11 (bet $100 to profit $72) while the odds for Bayern to qualify are at 11/10 (bet $100 to profit $110).
This match of two football giants is one of the most anticipated matches of the season so far. Will Bayern continue their domination or will Barcelona turn it on when it matters the most and prove that they are still the best team in business.
This could be a great match!