UEFA Champions League - Bayern Munich vs. Arsenal - March 13, 2013
Bayern are hosts to Arsenal in the second leg of the UEFA Champions League round of 16 at the Allianz arena in Munich on Wednesday, March 13th at 20:45 CET. The score in the first leg in London was 1-3 for Bayern.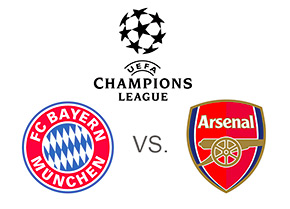 As you would expect Bayern are huge favourites to win this match and advance into the quarter-finals.
Full Time Result:
Bayern 2/5
Draw 17/4
Arsenal 15/2
To Qualify:
Bayern 1/100
Arsenal 25/1
This means that a $100 bet on Bayern to qualify if successful would bring in $1 in profit while the same bet on Arsenal, if they managed to upset the German giant and score a minimum of three goals on Wednesday, would bring in $2,500 in profit.
Bayern are a dominant force domestically as well as in Europe this season. They are winning everything. They are in first place in the Bundesliga after 25 matches, 20 points ahead of second place Dortmund. Bayern finished first out of UEFA Champions League Group F ahead of Valencia, BATE and LOSC. Most recently Bayern beat F Dusseldorf 3-2 at home.
Arsenal are in 5th place in the English Premier League and they finished second out of Group B behind Schalke and ahead of Olympiacos and Montpellier in the Champions League. Most recently they lost to Tottenham 2-1 on March 3rd.
Bayern will be without Boateng and Bastian Schweinsteiger who are suspended and without Franck Ribery who has a sprained ankle. Arjen Robben will be making a return after missing the last game with a calf problem.
Arsenal are without their star midfielder Jack Wilshere who is out for three to four weeks.
Can Arsenal perform a miracle in Munich or will it be all Bayern on Wednesday night?
This should be an entertaining match!