Bayern Munich vs. VfB Stuttgart - DFB Pokal Final - Odds and Preview - 01/06/2013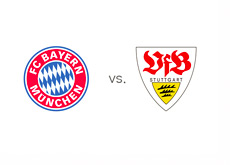 Bayern Munich and VfB Stuttgart meet in the German Cup (DFB Pokal) final on Saturday, June 1st, 2013 at the Olympia Stadion in Berlin.
Bayern have won the Bundesliga and the UEFA Champions League already this season and are looking to complete the treble with a win over Stuttgart in the cup. The upcoming match will be the last one at Bayern for coach Jupp Heynckes. A hard act to follow!
Bayern have beaten Stuttgart already twice this season. The score in Munich was 6-1 and in Stuttgart 0-2. It comes as no surprise that Bayern are huge favourites to win again on Saturday and lift the cup trophy for the record 16th time. VfB Stuttgart have won the cup three times.
Lets take a look at the odds for the upcoming match:
Bayern Munich: 2/11
Draw: 6/1
VfB Stuttgart: 14/1
A $100 bet on Bayern returns $18 in profit, while the same bet on VfB Stuttgart could return $1,400 in profit.
The most likely scoreline according to the odds is a 2-0 victory for Bayern offered at 6/1 (bet $100 to profit $600).
On their way to the final Stuttgart eliminated SV Falkensee-Finkenkrug, St Pauli, FC Cologne, VfL Bochum and SC Freiburg. Bayern was the better team against SSV Jahn Regensburg, Kaiserslautern, FC Augsburg, Borussia Dortmund and VfL Wolsburg.
Stuttgart finished in 12th place in the Bundesliga and most recently they tied with Mainz 2-2 after beating 4th place Schalke 0-2.
Bayern have won their last eight matches against Stuttgart in all competitions and they have won their last 15 matches this season.
Can a minor miracle happen in Berlin on Saturday or will it be, as expected, all Bayern Munich at the Olympia Stadion?
Bayern Munich have had an outstanding, record breaking, season and it would be almost a shame not to see them win this one as well.