Bayern Munich vs. Schalke 04 - 21st Round of German Bundesliga - Game Odds
Update: Final Score -
Bayern vs. Schalke 4-0
--
On February 9th, 2013 in the German Bundesliga, Bayern Munich are hosts to Schalke 04 at the Allianz Arena, Olympic Stadium in Munich.
Bayern Munich have solidified themselves at the top of the league table with 51 points after 20 matches while Schalke 04 are in 6th spot with 29 points.
In the UEFA Champions League, both Bayern and Schalke are through to the knock-out, best of 16, round where Schalke are playing Turkish Galatasaray and Bayern are facing English Arsenal.
Both Bayern and Schalke are among the European elite this season, but Bayern are huge favourites in the upcoming match.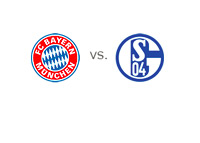 Bayern 1/4
Draw 9/2
Schalke 11/1
This means that a successful $100 bet on Bayern yields a total of $125 while the same bet on Schalke yields a total of $1,200.
Schalke 04 hosted Bayern on September 22nd, 2012 earlier in the season and the score in that game was 0-2 for Bayern.
Bayern won most of their home games this season in the league with the exception of a loss to Bayer Leverkusen (1-2) and two draws vs. Borussia Dortmund (1-1) and Borussia Monchengladbach (1-1). Most recently Bayern beat VfB Stuttgart 0-2 and Mainz 0-3.
Schalke 04 most recently lost to SpVgg Greuther Furth at home 1-2 and in the match before that they tied FC Augsburg 0-0. It should be noted that Schalke beat Arsenal in London in October in Group B of the UEFA Champions League and that they tied them 2-2 again in Gelsenkirchen in November.
How is it going to play out? Can Schalke do something at the Allianz Arena? They would definitely love points out of this game as they have a few spots to climb if they want to qualify for the UEFA Champions League next season.
Will Bayern continue their domination on the home front?
--
Note: Schalke will be without their star player Lewis Holtby who transferred to Tottenham Spurs 11 days ago.