Uli Hoeneß Cup - Bayern Munich and Barcelona Play in a Charity Game on July 24th, 2013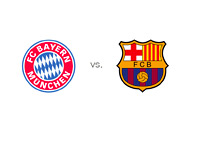 Bayern Munich and Barcelona meet in a friendly match on July 24, 2013 at the Allianz Arena in Munich.
The two teams are meeting as part of the Uli Hoeneß Cup, which is a charity tournament in honour of Bayern Munich's president Uli Hoeneß.
71,000 tickets that went on sale on June 7th quickly sold out and the game will be broadcast live on the ZDF television network.
Bayern Munich and Barcelona clashed earlier in the year in the semi-finals of the UEFA Champions League where Bayern came out on top winning 7-0 on aggregate. Barcelona will look for some consolation in the upcoming match.
It will be interesting to see Pep Guardiola, the newly appointed Bayern coach, sitting on the opposite side of the team with whom he enjoyed a very successful career as a player and as a manager. Pep Guardiola came through the Barcelona youth system and played for Barcelona B and the Barcelona first team. He won the UEFA Champions League (formerly known as European Cup) as a player and as the manager.
The friendly match between two football giants was set up in January of 2012 as a birthday gift for Uli Hoeneß.
This is something to look forward to!