Barcelona vs. Real Madrid Odds - Copa del Rey - Semi-final - 2nd Leg
Barcelona are hosts to Real Madrid in the 2nd leg of the Copa del Rey semi-final on Tuesday, February 26th, 2013 at 9pm local time. The score in the first match at Santiago Bernabeu in Madrid was 1-1.
Barcelona are 13 points clear in La Liga (16 points ahead of Real Madrid) but in their last couple of games they have not been themselves. First came the 2-0 loss to AC Milan in the UEFA Champions League and then a lacklustre 2-1 win vs. Sevilla in the league.
Real Madrid played really well in the 1-1 tie against Manchester United in the Champions League and then won their next two La Liga games vs. Rayo 2-0 and Deportivo 1-2. Kaka was the player who made a difference in the last two league games and it will be interesting to see if he is included in the lineup against Barca.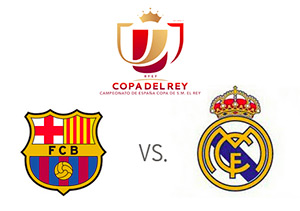 Full Time Result
Barcelona 4/6
Draw 16/5
Real Madrid 7/2
To Qualify
Barcelona 4/9
Real Madrid 13/8
This means that the odds are in favour of Barcelona to qualify for the finals. A $100 bet on Barcelona, if successful, would bring in $44 in profit while the same bet on Real Madrid would bring in $162.
It will be interesting to see what happens here. Barcelona have pretty much secured the La Liga title and their survival in the UEFA Champions League round of 16 is under a big question mark. The team will have to wake up and perform or this dreamlike season will come to an end. Looking from the other side, winning the Cup is Real Madrid's best chance of getting a trophy this season and they will go all out on Tuesday.
Barcelona and Real Madrid have met four times already since August 2012. In the Spanish Super Cup (Supercopa de Espana) Barcelona won 3-2 at home and Real prevailed 2-1 in Madrid winning the tournament on away goals. In the La Liga Barcelona tied Real Madrid 2-2 at Camp Nou in October and 1-1 was the score in the 1st leg of the Copa del Rey semi-final on January 30th in Madrid.
The two teams are meeting again at Santiago Bernabeu on Saturday March 2nd in the league.
Something about the
El Clasico
, that always brings out the best out of Real and Barcelona.
The game on Tuesday is a big one, make sure you tune in. The winner will be playing against the winner of
Atletico vs. Sevilla
in the Copa del Rey final.