Barcelona vs. AC Milan - Game Preview and Betting Odds - UEFA Champions League - March 12th, 2013
In what is easily the most popular match of the week in Euro football, Barcelona host AC Milan at Camp Nou on Tuesday, March 12th, 2013 in the second leg of the UEFA Champions League round of 16. The score in the first match was 2-0 for Milan.
Can Barcelona make it happen?
The team won comfortably vs. last place Deportivo in the Spanish La Liga over the weekend and they claim they are ready for the big game. Messi, Iniesta and Busquets started the game on the bench resting for Tuesday, but played in the second half.
AC Milan are undefeated in their last ten games and most recently they beat Genoa 0-2 after beating Lazio at home 3-0. The team is in good form and ready.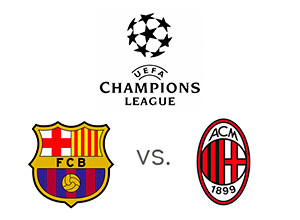 Full Time Result
Barcelona 3/10
Draw 9/2
AC Milan 8/1
To Qualify
Barcelona 5/4
AC Milan 4/6
Barcelona are huge favourites to win on Tuesday, but Milan are favourites to qualify to the quarter-finals. A $100 bet on Barcelona to qualify to the next round could bring in $125 in profit while the same bet on AC Milan could bring in $66 in profit.
Barcelona had a tough couple of weeks. After losing to Milan they lost to Real Madrid twice, once in the league and then in the cup. Has the team really recovered after these three punishing blows?
AC Milan outplayed Barca two weeks ago and they plan on doing it again. Milan is going to Camp Nou to play their game and attack. The team is in a good groove right now climbing the Serie A tables.
This will be a really entertaining game. Barcelona are pushed against the ropes. How will they respond?
Can Milan repeat the performance from two weeks ago?
We are looking forward to Tuesday!