Spanish La Liga - Atletico Madrid vs. Valencia - Odds and Preview - 31/03/2013
Atletico are hosts to Valencia in the 29th round of the Spanish La Liga on March 31st, 2013 at Vicente Calderon Stadium in Madrid.
Atletico are in 3rd place at the moment behind Barcelona and Real Madrid with a chance to climb up to 2nd if they beat Valencia on Sunday. Valencia on the other hand are in 6th place and they have an opportunity to climb at least one spot, and possibly two, if they manage to win. The top four spots in the La Liga qualify for the UEFA Champions League and with 10 rounds left in the season, every game counts.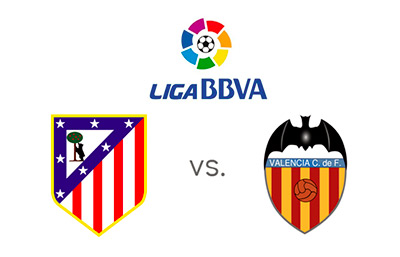 Atletico are the favourites.
Atletico -150
Draw +275
Valencia +400
This means that a $150 bet on Atletico returns $250 ($100 in profit) while $100 on Valencia could bring in $500 ($400 in profit).
Atletico most recently beat Osasuna 0-2 before the international break while Valencia beat Real Betis 3-0 at home.
The two teams met in the La Liga earlier in the season on November 3rd and Valencia won that match 2-0 at home.
Atletico have a great chance to climb over Real Madrid who tied vs. Zaragoza on Saturday and Valencia need every point they can get their hands on in order to make it to the Champions League next season.
Radamel Falcao has scored 21 goals in the league so far for Atletico and the odds of him scoring on Sunday are -150 which means that one would have to bet $150 in order to get $100 in profit back.
Roberto Soldado has scored 14 goals in the league this season for Valencia and the odds of him scoring on Sunday are +220.
This should be a great match!