Copa del Rey Semi-final, 1st leg - Atletico Madrid vs. Sevilla - Betting Odds
Atletico Madrid are hosts to Sevilla in the 1st leg of the Spanish Copa del Rey semi-final taking place on January 31st, 2013 at the Vicente Calderon Stadium in Madrid. The return match is at the end of February in Sevilla.
The winner of this matchup plays the winner of
Real Madrid vs. Barcelona
in the Copa del Ray finals.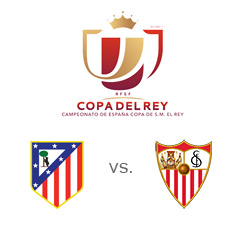 Atletico Madrid beat Jaen, Getafe and most recently Real Betis on their way to the semis while Sevilla eliminated Espanyol, Mallorca and most recently Real Zaragoza.
In the La Liga (Spanish League), Atletico are in 2nd place with 47 points after 20 matches while Sevilla are in 12th place with 23 points.
When Atletico hosted Sevilla in the league on November 25th, 2012 the score was 4-0 for Atletico.
It is no surprise that Atletico are big favourites to win the first match in Madrid.
Atletico 8/13
Draw 14/5
Sevilla 9/2
This means that a $100 bet on Sevilla would yield a total of $450 while in order to make $100 betting on Atletico one would have to put down $163.
This should be a very exciting match.