Atletico Madrid Finances About to Improve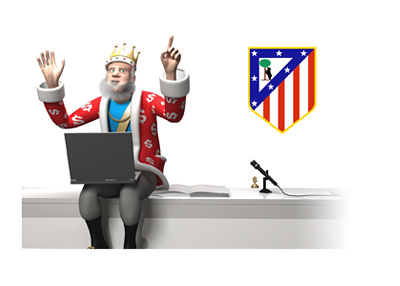 Things are about to change for the better at Atletico Madrid when it comes to their yearly financials.
The new La Liga rules in regards to the distribution of broadcast revenues, which are about to take effect in 2016/17, are going to bring in a whole lot more Euros to the Spain's third most successful football club. Atletico, in fact, are the team that will benefit the most from all the planned changes.
Spanish La Liga has agreed to adopt an equal distribution business model, based on the framework that the English Premier League operates on. The Spanish league, who recently signed a 3 year broadcasting deal worth in the area of €2.65b, will divide the tv rights money roughly according to the following formula:
Ninety percent of all the funds will go to the teams from the first division, while the rest will go to the teams from the second division, women football league etc.
Fifty percent of the funds that go to the teams from the first division will be split evenly among the 20 teams. Twenty five percent of those funds will be distributed according to how each club performed in the last 5 years, while the last 25% will be split according to average ticket sales etc.
The way things used to operate in La Liga was that Real Madrid and Barcelona were able to negotiate their own broadcasting deals and were taking in the lion's share of all the profits. Things are about to change, even though there still is a rule that no team will be forced to earn less than they were earning before the new deal.
It is estimated that the top 5 Spanish clubs will make the following amounts in 2016/17 from the new broadcasting deal:
Barcelona - €150m
Real Madrid - €148m
Atletico Madrid - €116m
Valencia - €109m
Sevilla - €102m
Under the previous arrangement, Atletico Madrid was earning around €45m per season. Now they will be bringing in more than double that figure.
On top of this, Atletico Madrid are in the final of the Champions League again this year and will be collecting a nice amount of Euros from UEFA as well.
For a club that is used to selling their star players year after year to stay in business, all this is a very welcomed development.
--
Whether this means that Diego Simeone is going shopping for top talent this summer remains to be seen.