Aston Villa and Sunderland Battle to Stay Alive in the English Premier League on Monday, April 29th, 2013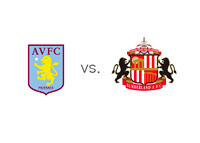 With Reading and QPR already relegated to the lower division, there is still one open spot on the train to the Championship and both Aston Villa and Sunderland are in danger of catching it.
A lot is at stake on Monday as Aston Villa host Sunderland in the 35th round of the English Premier League at the Villa Park stadium.
There are four games left in the English Premier League for these two teams and a win for Sunderland, who have 37 points, 5 more than 18th place Wigan, means that they probably get to stay in the top division. Aston Villa on the other hand have 34 points and a win at home on Monday is of vital importance.
Aston Villa have 4 points out of their last 3 games. They beat Stoke 1-3 on April 6th, tied Fulham at home 1-1 on April 13th and most recently lost to Manchester United 3-0 on April 22nd.
Sunderland have 6 points out of their last 3 games with recent wins over Everton and Newcastle on April 20th and April 14th respectively, and a 2-1 loss to Chelsea on April 7th.
Last time Aston Villa hosted Sunderland at Villa Park in April of 2012 the score was 0-0. In the current season, Sunderland lost to Aston Villa at home 0-1 on November 3rd, 2012.
Aston Villa 13/10
Draw 12/5
Sunderland 12/5
A $100 bet on Aston Villa returns $130 in profit while the same bet on Sunderland returns $240 in profit. The bookies are of the opinion that Aston Villa will be able to get all three points on Monday.
Christian Benteke is the favourite to score for Aston Villa at 6/5 (bet $100 to profit $120) while Danny Graham is the favourite to score for Sunderland at 21/10 (bet $100 to profit $210).
It should be noted that Paolo Di Canio took over Sunderland as head coach two games ago and the team managed to win both. Will Di Canio's streak continue on Monday or will Aston Villa manage to get the much needed points?
This could be an entertaining match! The kick-off is at 8pm.