English Premier League - Arsenal vs. Wigan - 14/05/2013 - Betting Odds and Game Preview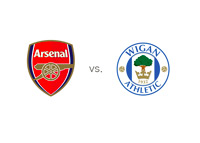 The upcoming match between Arsenal and Wigan on Tuesday, May 14th, 2013 is a big one for both sides. Arsenal are fighting for a spot in the UEFA Champions League next season and two wins in the next two games would make that happen. Wigan on the other hand are fighting a relegation battle and, in addition to a little bit of luck, they also need two wins out of their next two matches to stay alive in the English Premier League.
Arsenal managed to beat Wigan in the away match earlier in the season with the score of 0-1 and, as expected, they are the favourites to win again at home at the Emirates Stadium in London.
Arsenal 1/3
Draw 4/1
Wigan 8/1
A $100 bet on Arsenal returns $33 in profit if successful, while the same bet on Wigan returns $800 in profit.
Arsenal most recently beat QPR with the score of 0-1 after drawing with Manchester United 1-1 at home and beating Fulham 0-1.
Wigan most recently lost to Swansea at home 2-3 after beating West Brom 2-3 in London and drawing with Tottenham 2-2 at home.
Before the upcoming match with Arsenal, Wigan are playing vs. Manchester City in the FA Cup finals this coming Saturday.
Wouldn't it be something if Wigan could pull off upsets in the next two games? Both Manchester City and Arsenal are probably going to roll all over Wigan, but you just never know.
This should be a good match to watch. Both teams will probably fight hard as a lot is at stake. Enjoy!