Game Preview: Arsenal vs. Napoli - UEFA Champions League - October 1st, 2013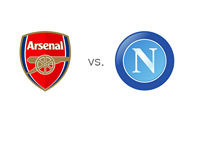 Two of the most exciting teams in Europe at the moment, Arsenal and Napoli, are set to meet in the second round of UEFA Champions League (UCL) in Group F on Tuesday, October 1st, 2013 at Arsenal Stadium in London.
Arsenal are sitting at the top of the English Premier League (EPL) tables, and have won their last nine games across all competitions. Arsene Wegner's side are red hot right now. Most recently, they took all three points on their visit to Swansea, while in the champions league they beat Marseille 1-2 in the first round.
Napoli are blazing hot themselves with six wins and one draw this season across all competitions. Rafael Benitez's side are second in Serie A at the moment and in the UCL they beat Borussia Dortmund 2-1 in the first round of games.
Arsenal are the favourites to win at home on Tuesday, but Napoli promises to be a very tough opponent. Let's take a look at the odds for the upcoming match in London:
Arsenal: 1/1
Draw: 5/2
Napoli: 13/5
A 100 € bet on Arsenal could return 100 € in profit, while the same bet on Napoli could return 260 € in profit.
The top goalscorer odds are:
Gonazlo Higuain (Napoli): 7/5
Olivier Giroud (Arsenal): 7/5
Niclas Bendtner (Arsenal): 7/4
Yaya Sanogo: (Arsenal): 7/4
…
Goran Pandev (Napoli): 11/5
Aaron Ramsey (Arsenal): 12/5
Mesut Ozil (Arsenal): 12/5
Gonzalo Higuain has adopted well in Naples since arriving from Real Madrid this summer. He has scored three times so far in Serie A and once in the UCL. A 100 € bet on Higuain to score on Tuesday could return 140 €. The odds are the same for Olivier Giroud from Arsenal who has scored four times so far in the English Premier League.
It is a bit surprising to see Niclas Bendtner having better odds of scoring than Aaron Ramsey for Arsenal. Ramsey is on top of his game right now and has scored in his last four matches. Niclas Bendtner played his first game for Arsenal in years last week against West Brom in the Capital One Cup.
This should be an awesome match!