Bayern Munich are Favourites to Beat Arsenal in London
Update: Final Score -
Arsenal vs. Bayern 1-3
--
On Tuesday, February 19th, 2013 at the Arsenal Stadium in London, Arsenal are hosts to Bayern Munich in the 1st leg of the UEFA Champions League round of 16.
This is an interesting matchup. Two big teams, one of them struggling while the other one is destroying everything in their path.
Arsenal are having a tough year. They are in the 5th place in the English Premier League after 26 matches, they got knocked out of the FA Cup by a 2nd-tier club and eliminated from the Capital One Cup by a team from the fourth division. Arsene Wenger, Arsenal's longest-serving and most successful manager is hinting that he may be leaving the club.
Bayern on the other hand, after having a 'so close but no cigar' season last year where they came 2nd in the Bundesliga, 2nd in the German Cup (DFB Pokal) and 2nd in the UEFA Champions League, are on fire at the moment. Bayern are at the top of the Bundesliga tables by 15 points having scored 57 goals and conceding 7, they won their Champions League group ahead of Valencia, BATE and LOSC and they are in the quarter-finals of the German Cup. Bayern are hungry for trophies this year and they mean business. In 32 matches this season so far, Bayern have lost only 2.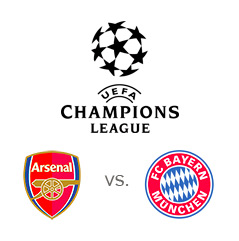 Arsenal 14/5
Draw 13/5
Bayern 21/20
This means that a successful $100 bet on Arsenal would yield a total of $380 while the same bet on Bayern Munich would yield $205.
Can Arsenal do something against Bayern? The odds are stacked against them and the timing could not be more perfect for a big win.
Will Bayern continue their domination and roll over Arsenal heading straight for the big prize?
Bayern have won the Champions League 4 times, most recently in the 2000/01 season. They are the team with highest odds to win the trophy this year behind Barcelona.
Arsenal and Bayern last met in the round of 16 of the UEFA Champions League in the 2004/05 season when the score was 3-2 on aggregate for Bayern. Bayern won at home 3-1 and Arsenal won in London 1-0.
This should be a great match.