Arsenal FC Financial Results for 2013/14 Season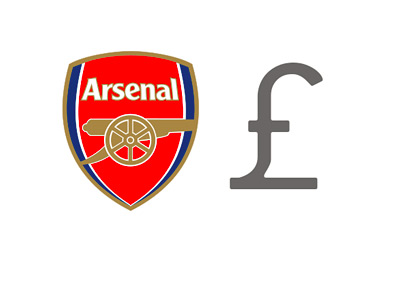 Arsenal Football Club have announced the financial results for the year ending May 31st, 2014.
The club seems to be in a very solid financial position with revenues exceeding £300m and £173m cash on hand.
Here are the important numbers from the financial report:
(please note that the numbers in brackets are last year's results)
Profit (before tax): £4.7m - (£6.7m)
Total Revenues: £301.9m - (£280.4m)
Football Revenues: £298.7m - (£242.8)
Football revenues are from broadcasting, commercial activity and the sponsorship deal with Emirates. Arsenal participated in the UEFA Champions League and won the FA Cup in last season.
Operating Profits: £62.1m - (£25.2m)
Operating profits are before depreciation and player trading.
Wage Costs: £166.4m - (£154.4m)
Player Sale Profit: £6.9m - (£47.0m)
Cash Balance: £173.3m - (£119.6m)
Cash balance does not include the amounts designated for debt service.
Arsenal Holdings plc has no short term debt.
--
In the 2014/15 summer transfer window, which is not counted in the numbers above, Arsenal spent around £78m to bring in Alexis Sanchez from Barcelona FC and Danny Welbeck from Manchester United. The summer transfer window net spend was in the area of £46m.
According to the reports in the media, Arsene Wenger will have about £30m available to spend in the January 2015 transfer window.
--
Considering the increase in football revenues and a substantial amount of cash on hand, Arsenal FC are in a very good financial position going forward.
--
For the full report from Arsenal Holdings plc - Please
click here
.