Real Madrid on 22 Game Winning Streak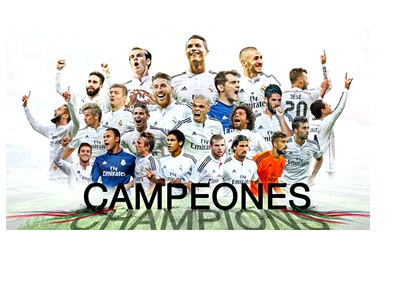 Nothing seems to be stopping Cristiano Ronaldo, Gareth Bale, Karim Benzema & co.
As if winning the UEFA Championship League for the tenth time in May this year wasn't enough, Real Madrid have coolly begun the new season with a bang. Halfway through, they are still undefeated.
Real Madrid currently lead the Spanish La Liga and are a point ahead of Barcelona having played a match less. A 3-1 win over their bitter Catalan rivals in October added a further sweetener. The Champions League has witnessed the Madrid giants win all their six matches on their way to the round of 16. With 16 goals scored from those six games, their tally is one less than Chelsea's 17, but have been scored against just twice.
The icing on the cake was the way 2014 ended for Real. A 2-0 win over Argentine club San Lorenzo in the World Club Championship at Marrakech last Saturday gave them their fourth major title this year, the others being the UEFA Champions League, the Copa del Rey and the European Super Cup. The World Club triumph at Marrakech was their 22nd straight win in a row, a new Spanish record and within striking distance of Holland's Ajax club's 26 consecutive-win run of 1971-72 under the great Johan Cruyff.
For manager Carlo Ancelotti, 2014 has been a year he cannot forget. He is proud of his team's achievement. He goes on to call them "a family" and undoubtedly the best team in the world.
Los Blancos have pumped in as many as 178 goals in 2014 which sets a new record for the highest number of goals in a calendar year for any La Liga team. They got goals playing clinical and ruthless football peppered with their trademark counter-attacks. Bayern Munich learned it the hard way in the Champions League semi-finals earlier this year when their possession-game was taken apart by the ferocious hit-on-breaks game of Real. Liverpool,too,were humbled 3-0 in their own backyard at Anfield. A couple of goals, one each by Ronaldo and Benzema were especially, absolute peaches.
Real Madrid fans expect their club to carry on things in the same vein in 2015. On the domestic front, Atletico Madrid are not the same team they were a year ago. Without Diego Costa, their attack lacks the necessary teeth to really pose a serious challenge for the crown. Barcelona with Messi & co are always a threat. But barring unexpected hiccups, one can expect Real to take the La Liga title this season.
On the European circuit, things could be more difficult. Apart from Atletico and Barca, who also have made it to the round of 16 in the Champions Cup, serious challenge could come in from Chelsea, who have never looked this good. A vengeful Bayern Munich are also not likely to forget or forgive the five-goal humiliation of last season.
Of course, Los Blancos can argue that they are even a stronger outfit than they were last season. The signings of Colombian World Cup wonder-boy Jamie Rodriguez and the German attacking mid-fielder Toni Kroos lends much more firepower to the already scary arsenal.
A repeat of 2014 could very well transport Real Madrid CF into a golden era.