Allianz Arena Welcomes Croatia to the European Union With a Red and White Light Display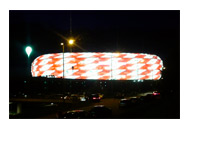 The Allianz Arena in Munich, which is home to FC Bayern Munich and TSV 1860 Munich, welcomed Croatia to the European Union on the evening of June 30th, 2013 with a red and white checkered light display.
The Republic of Croatia will be entering the European Union on July 1st, 2013 as the 28th member state and red and white are the colours on their national coat of arms.
Allianz Arena, the home of the 2012 UEFA Champions League final and the 2010 World Cup in Germany, is one of the most famous stadiums in the world. The Allianz Arena is lit up in red when Bayern is playing, blue when 1860 Munich is playing and white when the German national team is playing. Between the hours of 10pm on June 30th and 2am on July 1st, the stadium displayed the Croatian colours.
Bayern Munich have a history of featuring Croatians on their team. The most recent Bayern star from Croatia is Mario Mandzukic, the forward who helped the Bavarian side win a treble last year. Bayern Munich won the Bundesliga, DFB Pokal and the UEFA Champioins League in the 2012/13 season.
Pretty nice gesture!