AC Milan vs. Barcelona - UEFA Champions League - Game Odds and Notes
Update: Final Score -
Milan vs. Barcelona 2-0
--
AC Milan are hosts to Barcelona on February 20th, 2013 in the 1st leg of the UEFA Champions League round of 16 at Stadio Giuseppe Meazza, better known as San Siro, in Milan.
What a mouth watering matchup. AC Milan are rejuvenated with the arrival of Mario Balotelli who has scored 4 goals in his first 3 matches, while Barcelona are on top of their game headed by Lionel Messi who scored 2ice on the weekend making his total goal count at Barcelona 301. Messi has scored in the last 14 league matches for Barca.
Milan and Barcelona have met 15 times in total. Barcelona won 6 times and Milan 4. The total score tally is 22-19 for the Spanish side. Last time Barcelona and Milan squared off was in the quarter-final of the 2011/12 UEFA Champions League and the score at San Siro was 0-0 while at Camp Nou Barcelona won 3-1 with two of their goals coming from the penalty spot.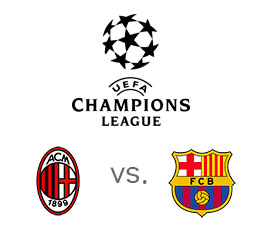 AC Milan 6/1
Draw 16/5
Barcelona 1/2
Barcelona are huge favourites to beat AC Milan at San Siro. A successful $100 wager on AC Milan would yield a total of $700 while the same wager on Barcelona would yield a total of $150.
Do the odds above sound right? Barcelona are favourites for sure, but AC Milan have momentum and a new leader on the pitch who is providing an uplift to the whole team. Mario is not able to play against Barcelona because he already played Champions League football this season with Manchester City, but he will be around to support his teammates. Milan are in 3rd place in Serie-A behind Juventus and Napoli and ahead of Lazio and Inter who both have a game less and could bump Milan down after Sunday's games. Milan most recently beat Parma 2-1 at home after drawing with Cagliari 1-1 and beating Udinese 2-1 at home.
Barcelona are in 1st place in the Spanish La Liga miles ahead of 2nd place Atletico and 3rd place Real Madrid. Aside from the goalie Victor Valdes, Barcelona's top talent have commited their future to the team. Messi alone signed a contract that ties him to the team until 2018. In their last 3 games, Barcelona beat Granada 1-2 after beating Getafe 6-1 at home and drawing with Valencia 1-1.
AC Milan vs. Barcelona is a matchup of two of the UEFA Champions League's most successful clubs. Will seven-time winners AC Milan be able to surprise on Wednesday in front of their own crowd and put a stop to Barcelona's more or less flawless season? Barcelona have won the competition four times and are the team with highest odds to do it again this year.
This should be a great match.