2014 FIFA World Cup Referees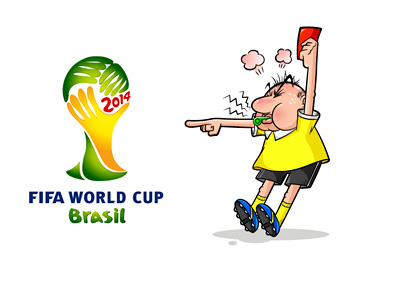 Here we present the officials set to feature in the upcoming 2014 FIFA World Cup.
The twenty five men were selected to referee the games in Brazil, along with eight 'substitutes'.
The referees were chosen based on knowledge, personality and fitness.
Here are the 25 main refs:
Joel Aguilar - El Salvador
Felix Brych - Germany
Cuneyt Cakir - Turkey
Carlos Velasco Carballo - Spain
Noumandiez Doue - Ivory Coast
Jonas Eriksson - Sweden
Bakary Gassama - Gambia
Mark Geiger - United States
Djamel Haimoudi - Algeria
Ravshan Irmatov - Uzbekistan
Bjorn Kuipers - Netherlands
Milorad Mazic - Serbia
Yuichi Nishimura - Japan
Peter O'Leary - New Zealand
Enrique Osses - Chile
Nestor Pitana - Argentina
Pedro Proenca - Portugal
Sandro Ricci - Brazil
Nicola Rizzoli - Italy
Marco Rodriguez - Mexico
Wilmar Roldan - Colombia
Nawaf Shukralla - Bahrain
Carlos Vera - Ecuador
Howard Webb - England
Benjamin Williams - Australia
Each referee will work with his usual officiating partners.
The officials recently underwent medical, physical and technical checks as you can see in the videos below:
European and Asian Referees Prepare for the World Cup - March 28th, 2014
FIFA World Cup - Referee Seminar ( Africa, CONCACAF and South America) - Zurich - April 7-11, 2014