Peyton Manning Leads The Way As Best #1 Overall Pick
Published on April 19th, 2022 12:17 pm EST
Written By:
Dave Manuel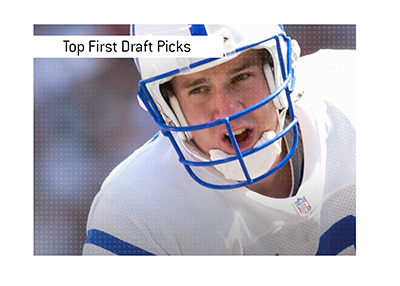 There have been some really good #1 overall picks in the NFL over the years that helped to completely transform their franchises, and there have been some complete busts (JaMarcus Russell, anybody?)
Here, in our opinion, are the five absolute best #1 overall draft picks over the past 30 years in the NFL:
1.
Peyton Manning
This one is easy.
Peyton Manning was the #1 overall pick in the 1998 NFL Draft, as he was taken first overall by the Indianapolis Colts.
Manning ended his career as one of the absolute best quarterbacks of all time. He won the MVP award five times, went to the Pro Bowl over a dozen times and won the Super Bowl twice.
There is no question that Peyton Manning is the best #1 overall pick of the past thirty years.
The amazing thing about this selection is that there was plenty of discussion before the 1998 NFL Draft as to who should be selected first - Manning or Ryan Leaf.
2.
Eli Manning
A surefire Hall of Famer who won two Super Bowls and two Super Bowl MVP awards.
Manning made four Pro Bowls and was certainly deserving of his #1 overall selection in the 2004 draft.
Manning finished his career with over 57,000 passing yards and 366 touchdowns.
3.
Orlando Pace
Pace was taken first overall in the 1997 NFL Draft by the St. Louis Rams, and he did not disappoint.
Pace was a 7x Pro Bowler, he was a Super Bowl (XXXIV) and was elected to the Hall of Fame in 2016.
If you make the Hall of Fame, you are going to be near the top of the list, even if you don't play a position like quarterback.
4.
Matthew Stafford
Matthew Stafford was taken first overall in the 2009 NFL Draft by the Detroit Lions.
Stafford played with a number of bad to mediocre teams in Detroit, and finally found himself in a good situation when he was traded to the Los Angeles Rams last year. Stafford immediately led his team to a Super Bowl victory, which cements his spot on this list.
5.
Cam Newton
Before succumbing to injuries, Cam Newton was likely the single most impactful player in the NFL. During his prime, Newton was practically unstoppable, and he won the MVP award in 2015.
This selection might be a bit more controversial, though there is no doubt that Newton was one of the most electrifying players in the NFL, and it's a shame that his body couldn't hold up.
-
Players like Myles Garrett, Kyler Murray and Joe Burrow could find themselves on this list one day, though they are still a bit too early into their careers to make the list for now.