First Internet Wager Placed in January of 1996
Published on October 23rd, 2020 8:48 am EST
Written By:
Dave Manuel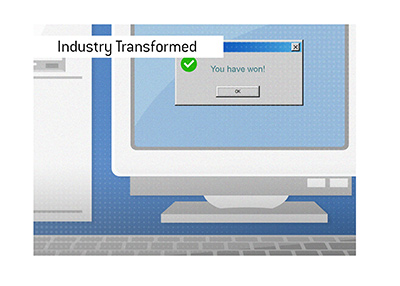 The Internet changed many industries, and sports betting is no different.
On January 17th, 1996, a Finnish gambler by the name of Jukka Honkavaara logged into his Intertops account and placed a $50 wager.
Honkavaara bet $50 that Tottenham would beat Hereford United in a football match.
Tottenham won, and Honkavaara walked away with a princely profit of $2.
With that, Intertops (which is still around) became the first ever online sportsbook.
-
This single bet would help to transform the entire betting industry.
Prior to the Internet, sportsbooks like Intertops relied on the telephone to handle their wagers.
Back in the pre-Internet era, you would call up a shop like Intertops and sign up for an account over the phone.
They'd give you instructions to fund your account - usually through a method like Western Union money transfer.
Once your account was funded, you'd pick up the phone and place a bet with an agent.
The Internet changed all of that, and we are still seeing the impact in countries like the United States, where online sports betting is growing in popularity by the day.
-
Shortly after Intertops accepted the first online sports bet, other companies followed and a new industry was born.
Online sports betting has sparked many innovations in the betting industry, such as in-play betting and early cashouts.
Everything, however, can be traced back to that first $50 wager on Tottenham Hotspur to beat Hereford United.