Can Fedor Recapture Old Magic Against Matt Mitrione?
Published on February 16th, 2017 4:23 pm EST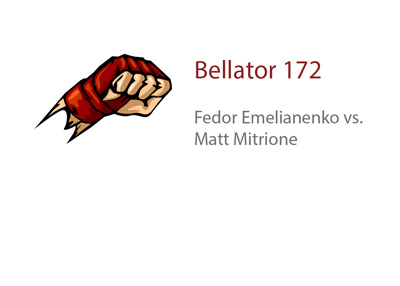 Bellator 172, which will be held this Saturday night, features a card that is stacked with former UFC stars.
Matt Mitrione, who was at one time one of the hottest prospects in the UFC's Heavyweight division, will be squaring off against Fedor Emelianenko in the main event. Mitrione left the UFC last year for Bellator via free agency, while Fedor has continued to avoid the UFC while fighting in other organizations.
Fedor, who was at one time the greatest mixed martial artist in the world, has seen some of the bloom come off of his rose as of late. Fedor's last fight was a highly controversial win against Fabio Maldonado, where Maldonado absolutely battered Fedor only to lose via decision. You can make the argument that Fedor's last legitimate victory came against Satoshi Ishii all the way back in December of 2011.
Matt Mitrione has won both of his fights since entering Bellator last year, though Fedor will surely be the toughest test since moving over to the promotion.
-
Fedor Emelianenko clearly has the edge on the ground in this match-up, though you would have to say that Mitrione likely has the edge on the feet. Mitrione has shown that he possesses a fairly dynamic striking arsenal over the years, plus he is incredibly quick for being such a large athlete.
Fedor will likely try to end the fight with a single punch. If he is unsuccessful, it will be interesting to see if he can absorb large amounts of punishment from Mitrione.
-
Here are the current odds for this fight:
Fedor Emelianenko, +105
Matt Mitrione, -125
These odds mean that this fight is essentially a coin flip. I think that Mitrione is certainly the favourite in this fight and that gamblers may be betting on Fedor due to his mystique and history. Given Fedor's performance against Fabio Maldonado, I have a hard time seeing him as a good even money bet in this fight.
At the very least, Mitrione is good value at -125.