Michael Vick Posted a 4.33 Time At The Combine
Published on September 15th, 2022 6:07 pm EST
Written By:
Dave Manuel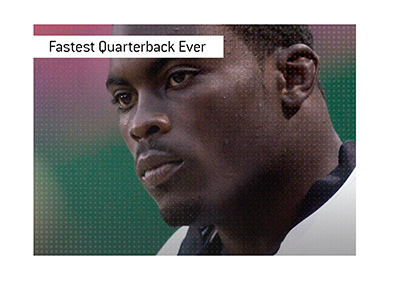 Michael Vick Continues To Be Fastest Quarterback To Ever Play in NFL
At the 2011 Combine, Michael Vick (Virginia Tech) left teams salivating when he posted a 40 time of 4.33 seconds.
Vick, who passed for 1,439 yards and rushed for 636 more in his sophomore (and last) season with Virginia Tech, was seen as a potential unicorn - an unpolished quarterback with a rocket arm that was impossibly fast.
Vick was selected first overall in the 2001 NFL Draft and didn't disappoint, as he quickly became one of the most dynamic players in the league.
2002 would be Vick's coming out party, as he would pass for nearly 3,000 yards and rush for 777 more, while finding the endzone 8 times as a rusher.
Vick gave defenses absolute fits, and he remains one of the one of the hardest quarterbacks to ever gameplan against.
-
Vick clocked the fastest ever time for a quarterback at the Combine at 4.33 seconds.
Rumor has it that Vick could run the 40 in as little as 4.25 seconds, which is unbelievably fast for a quarterback.
-
Here are the fastest ever times for a quarterback at the Combine:
1. Michael Vick, 4.33 seconds
2. Reggie McNeal, 4.40 seconds
3. Robert Griffin III, 4.41 seconds
4. Brad Smith, 4.46 seconds
5. Justin Fields, 4.46 seconds
Robert Griffin III was on his way to a very promising career as a NFL quarterback, but he ultimately suffered a severe knee injury and was never the same after.