John Ross Broke The Record in 2017
Published on March 3rd, 2022 6:14 pm EST
Written By:
Dave Manuel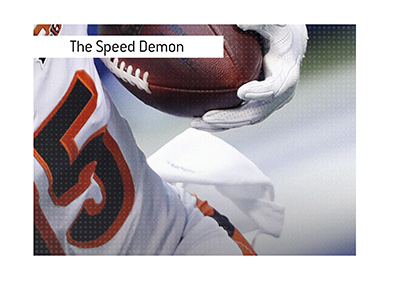 Every year, NFL fans watch the NFL Scouting Combine closely, poring over every detail of a potential draft pick, from the length of a player's wing span to the size of their hands to the results of their 40 yard dash.
The 40-yard dash results are very important, and a player can help move up the draft board if they put in a good result.
Wide receivers and running backs tend to post the fastest times in the 40-yard dash, and for good reason - they rely on their explosiveness and speed in order to be an asset to their teams.
In fact, the top 6 40-yard dash times all belong to these two positions.
-
The record for fastest ever 40-yard dash belongs to John Ross, who posted a time of
4.22 seconds
in 2017.
This result helped to push Ross up the draft board, where he was ultimately taken in the ninth spot by the Cincinnati Bengals.
Two players - Rondel Menendez (wide receiver) and Chris Johnson (running back) posted times of 4.24 seconds to sit at second place on the list.
The list of the top six 40-yard dash times of all time is rounded out by Jerome Mathis and Dri Archer, both of whom posted times of 4.26 seconds.
-
Here is a breakdown of top 40-yard dash times by position:
Wide Receiver - John Ross, 4.22 seconds
Running Back - Chris Johnson, 4.24 seconds
Quarterback - Mike Vick, 4.33 seconds
Tight End - Vernon Davis, 4.38 seconds
OT - Terron Armstead, 4.71 seconds
IOL - Chris Chester, 4.83 seconds
DL - Montez Sweat, 4.41 seconds
LB - Shaquem Griffin, 4.38 seconds
CB - DeMarcus Van Dyke, 4.28 seconds
S - Zedrick Woods, 4.29 seconds
P - Mitch Wishnowsky, 4.63 seconds