Former Heavyweight Champion Werdum Big Favourite To Win in Sydney
Published on November 13th, 2017 10:36 pm EST
Written By:
Dave Manuel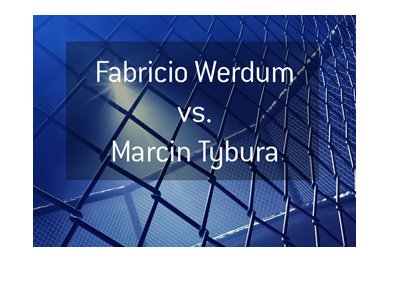 The main event of UFC Fight Night 121 wasn't supposed to be Fabricio Werdum vs Marcin Tybura.
Instead, the main event was originally intended to be Mark Hunt vs Tybura, though the UFC elected to pull Hunt from the fight due to worries about Hunt's health. This has led to an escalation in the feud between Hunt and the UFC, though that is a topic for another day.
Instead, the UFC elected to give former Heavyweight champion Fabricio Werdum the fight against Tybura. Werdum has a significant experience advantage over Tybura and is expected to easily win the fight.
Here are the current betting odds for the fight:
Fabricio Werdum, 1.28
Marcin Tybura, 4.00
For Tybura, this fight represents a major step up in competition. Tybura earned himself a high profile main event spot after defeating Andrei Arlovski via unanimous decision at UFC Fight Night: Holm vs Correia. Werdum, however, is an entirely different beast who can beat you both standing and on the ground. Let's not forget that Werdum has beaten the likes of Cain Velasquez and Mark Hunt, which makes him the most dangerous fighter that Tybura has ever faced.
Fabricio Werdum is coming off of an easy win over Walt Harris at UFC 216, as Harris was a late fill-in for Derrick Lewis, who had to pull out before the fight due to back issues.
Given Werdum's very high level grappling, you can't help but wonder if the Tybura fight is going to go similar to the Harris fight, with Werdum quickly winning via submission. After all, Tybura has not faced anybody close to Werdum's level of skill and quality, and you can't help but wonder if he might get overwhelmed by the bright lights.
-
For Fabricio Werdum, this fight represents what could be another easy paycheck for the former Heavyweight champion.
For Marcin Tybura, this fight represents the chance to put himself on the map, as a win over Werdum would send his stock soaring in the Heavyweight division.
It's too bad that Mark Hunt won't be participating on this card, though Werdum vs Tybura should definitely be interesting.