Spanish Primera Matches for the Evening of September 22nd
Published on September 22nd, 2011
Click Here to Qualify for a £200 Bonus at Bet365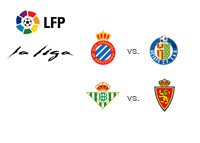 Primera Liga matches tonight close the fourth round of play with Espanyol facing Getafe and Real Zaragoza travelling to Real Betis, after last night both Barcelona and Real managing only draws at Sevilla and Racing Santander respectively.
Espanyol v. Getafe
Two teams, currently in 16th (Espanyol) and 19th (Getafe), meet tonight in Barcelona. Espanyol won one and lost two while Getafe has only managed to draw a game while losing two in the opening of the Primera.
We feel that these are two equally matched teams with Espanyol having a slight edge playing at home where they already won one match against Athletic Bilbao. Getafe was surprised last week at home by Rayo Vallecano and will be fighting hard to make things right in the Catalan capital.
Venezuelan and Getafe striker Miku has already scored three in his campaign, while Espanyol attack is led by Spaniard Sergio Garcia who scored 2 already and young French international Bifouma who is still looking for his first goal of the season.
Lot to play for in this match for both teams indicating a nice draw in this match, with bookies looking at 3.45 payout in case a tie.
Miku scoring at 3.00 looks like a best shot for Getafe to take all three points but we still feel that this will be carefully played match in a 0-0 or 1-1 draw.
King's picks:
Draw – 3.45
Miku scores – 3.00
Less than three goals – 2.05
Real Betis v. Real Zaragoza
In form Real Betis hosts Real Zaragoza tonight looking to go to first position in the Primera . A win tonight would see them take a two point lead over Valencia in a surprise start of the season during which everyone figured to see Barcelona and Real on top of the ranking table.
Real Betis comes into tonight's match with three straight wins while outscoring its opponents 5-2 along the way. Two away wins have shown that Real Betis is a serious side this year led by Roque Santa Cruz and Ruben Castro, two very experienced attackers.
Real Zaragoza opened with a 6-0 against Real Madrid at home, then drawing against Rayo Vallecano and finally winning their last match against Espanyol. Portuguese striker Postiga is still looking for his first goal while the attack so far has been led by Louis Garcia who has already scored two on the season.
Betis is favored to win tonight and looking by the strength that they have shown so far we can't see Real Zaragoza seriously threatening Betis at home. Betis win pays 1.75 and that is the bet to go with tonight.
Santa Cruz might finally score, that bet pays 2.40 and looks like a high probability wager.
King's pick:
Real Betis wins – 1.75
Santa Cruz scores – 2.40