Premier League Football Pick - Manchester City v. Everton
Published on September 24th, 2011
Click Here to Qualify for a £200 Bonus at Bet365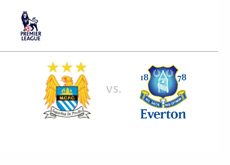 Manchester City v. Everton
Probable lineups:
Manchester City: Hart, Richards, Kompany, Lescott, Clichy, Barry, Toure Yaya, Silva, Aguero, Nasri, Dzeko
Everton: Howard, Neville, Jagielka, Distin, Baines,Coleman, Fellaini, Barkley, Drenthe, Cahill, Saha
The early match which opens the weekend of the Premier League offers several nice bets for players who like to play to play the early games.
This is a tricky match, however, with Manchester City ranked second and undefeated so far in their campaign and Everton ranked six with game in hand and their only loss coming at the hands of QPR. Everton has dominated Manchester City of late winning ten of the last fourteen meeting between the two clubs, which probably tells you to stay away from playing Three-way score on this one.
Everton is lead this year by their attacker Saha and a very good midfield led by P. Neville and t. Cahill, two of the more experienced players of the Premiership. Overall Everton is a very good team despite the departure of Arteta to Arsenal.
Man City has played amazing until their last match where they squandered a two goal lead against Fulham. There are some speculations regarding Mancini's choice of strategy which prefers to keep the result rather than pile up the goals in the opponents net. We just feel that sometimes he must be reminded that this is no longer Serie A and that Premiership is played until the whistle blows.
Overall we expect Manchester City to win with payout of 1.45, but even more so we feel that there will be goals in this one with both teams scoring a goal at least. That bet pays 1.75 and is likely to come true with all the attacking options for both coaches, we feel that it is little likely that we will see a Zero in result for any team here.
We pick Dzeko to score today again at 1.70, while it remains to be seen if Saha can finally score for Everton in the Premier league. That bet is set at 3.50 and might very well come true as Saha loves playing on the big stage.
King's picks:
Manchester City wins – 1.45
Both teams score – 1.75
Dzeko scores – 1.70
Saha scores – 3.50