Football Matchups for the Evening of September 12th
Published on September 12th, 2011
Click Here to Qualify for a £200 Bonus at Bet365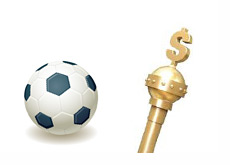 It's Monday night in European football and there are some nice bets out there to be covered tonight. Since there are not many matches being played out in the big leagues it is easy to pick ones to focus on tonight.
QPR vs. Newcastle
Newcastle being a slight underdog in this one is a great pick for tonight. They are on a roll having won their last three matches and have a solid team overall. Demba Ba, their strongest threat is settling in nicely after coming over from Germany last year and has been causing problems for opposing defenses. Top scorer has been Best and we expect Demba and Best to start together tonight and do wonders for the Newcastle squad. QPR on the other hand might be a much tougher opponent tonight at home than previously, since they are yet to win at home this year in the Premier League. They'll be pulling hard for this one, there is no doubt about it, but at this moment Newcastle has a better and more experienced squad and they should be too much for QPR tonight.
King's pick: Newcastle wins in a game where both teams will score at least a goal!
Malaga vs. Grenada
Two tricky teams are playing in the lone match of the Spanish Primera. Malaga has been on a spending spree this summer bringing in some names such as Tualalan (Lyon), v. Nilsteroj (Hamburger), Joaqin (Valencia) and Julio Batista (Roma) and are aiming for the top half of the Primera. Grenada on the other hand is a pretty nice team themselves with a number of international players and young Spanish talent. Both teams lost their openers last week by a goal only, so although this one is fairly close to coll, we'll put our money on Malaga playing at home to win tonight and get their first three points on the season.
King's pick: Malaga wins
Dynamo Dresden vs. Bochum
Too fairly bad teams of the German Zweite are meeting tonight in a match-up of Dynamo Dresden and Bochum. The major role tonight will be played by the home field advantage, because Dynamo plays tough in front of their fanatic fans. Bochum on the other side doesn't seem to really belong at this level of football , but numerous departures have left them without that many options for at least this part of the season.
King's pick: Dynamo Dresden wins