Single Season Rushing Record Has Stood For Almost 40 Years
Published on January 19th, 2023 9:33 pm EST
Written By:
Dave Manuel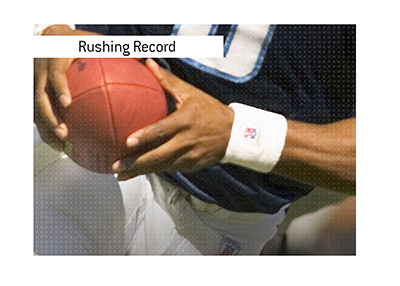 In 2020, a 26-year old Derrick Henry broke the 2,000 rushing yards mark in a single season, finishing his campaign with a total of 2,027 yards on the ground.
A fantastic season that was still nearly 100 yards short of the all-time record.
-
In 1984, while playing for the Los Angeles Rams, 24 year-old Eric Dickerson turned in the greatest single-season rushing performance of all time.
During that season, Dickerson, who was playing in his second season in the league, rushed for 2,105 yards and 14 touchdowns.
This worked out to an incredible 131.6 yards of rush per game.
Dickerson rushed 379 times during the 1984 season, which means that he gained 5.6 yards on the ground every time that he was handed the football.
Practically unstoppable.
Dickerson was obviously an all-time great running back, though his numbers were certainly assisted by the fact that the Rams had a number of Hall of Famer and All-Pro players on their offensive line.
In fact, many people believe that the offensive lines that the Rams put out in the mid '80s were some of the best in the history of football.
The Rams pounded the football with Dickerson all season in 1984, as he received exactly 400 touches over the course of the year.
-
What makes Dickerson's year even more impressive is that he had games where he only rushed for 49 and 38 yards.
In fact, Dickerson got off to a "slow" start (by his standards) in 1984, rushing for around 390 yards in his first four games.
After rushing for just 38 yards in Week 9 against the San Francisco 49ers, Dickerson really started to go off, putting together games of 215, 208 and 191 yards.
Week 13 against the Tampa Bay Buccaneers was Dickerson's best game of the season, as he would rush for 191 yards and 3 touchdowns, en route to leading the Rams to a 34-33 win.
-
Even though the NFL regular season now includes an extra game, the odds of a running back breaking Dickerson's record seem to decrease by the day.
The main reason?
The use of running back "committees" in the NFL.
The days of the "workhorse" running back seem to be coming to an end.
Most teams will now employ a platoon of running backs - early down running backs, pass catching running backs and short yardage running backs.
A handful of running backs get more than 300+ touches in a single season, and it might not be long before 300+ touches is a rarity in the league.
Given the trend in running back usage, it seems hard to imagine anyone beating Dickerson's record anytime soon.